Say hello to your new favourite passion fruit liqueur…
There is a new passion fruit liqueur on the block, and it's the cocktail ingredient to have this summer. Introducing our latest addition to our award-winning range, Apollo, made with real passion fruit juice and natural flavours.
Apollo is a great value alternative to the leading passion fruit liqueur brands and is available in a 70cl bottle at 17%. Not only does this enable the on-trade to produce the highly popular cocktail, the Passion Fruit Martini and at a more affordable price of just £9, it also makes cocktail mixing more affordable for consumers who want to make drinks at home. The at-home cocktail trend that has increased in recent years is expected to continue as the realisation of a cost of a night out has led to consumers combining visits to their favourite bars and restaurants with entertaining at home, choosing to expand and upgrade their home bars instead.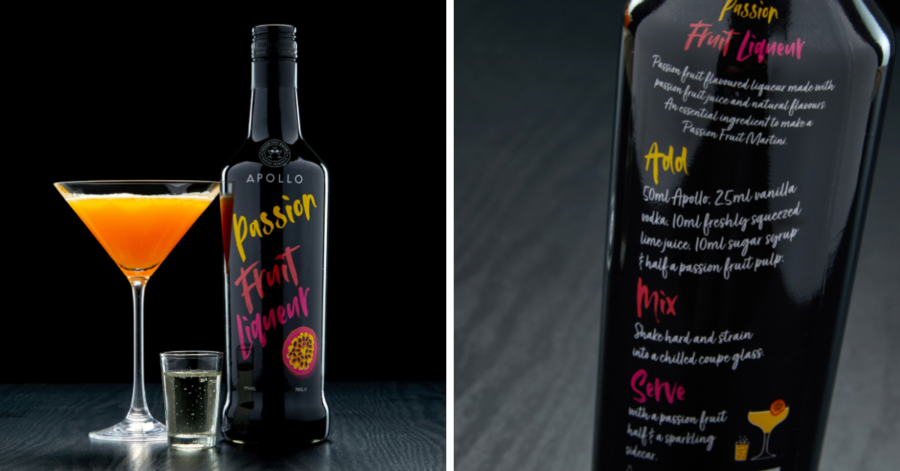 Apollo has launched into Iceland stores across the UK which supports this at-home cocktail-making trend and makes a key ingredient affordable and accessible for consumers; meaning those taking their hand at mixology and seeking out new drinks and flavours can do so with ease.
Our Marketing Director, Clare Gibson shares our company-wide excitement on the launch of Apollo: "A Passion Fruit Martini remains the UK's number 1 favourite cocktail, meaning that passion fruit liqueur is in high demand in both the off-trade and on-trade markets right now. We hope Apollo can rival the market whilst also providing a more affordable option that appeals to both the on-trade and consumers looking to shake up Passion Fruit Martinis at home this summer!"
As well as being available in Iceland stores, Apollo is currently available in the following on-trade wholesalers and RTMs: Primo Drinks, HT Drinks, Molson Coors, Inverarity Morton, and Champers. Contact us today to get your hands on Apollo.