Our much-loved brand, V-Kat, has got a new look AND we have added a new flavour to the popular range
The brand refresh includes a new bottle shape and design, as well as a new flavour addition: V-Kat Pink. This comes following strong growth within the schnapps market, which is up 28% YoY*, and ensures that V-Kat will stay relevant and competitive in the current populated market.
In addition, the new V-Kat Pink variant responds to industry trends – the vibrant pink schnapps created with mixed berry flavours capitalises on the increasing consumer demand for pink alcoholic drinks post-Covid. What's more, research has found that pink drinks are most commonly associated with joyous occasions, with almost half of millennials saying that sipping on pink drinks puts them in a better mood. So, now is the perfect time to introduce V-Kat Pink to meet rising demand.
*AC Nielsen 27.02.2021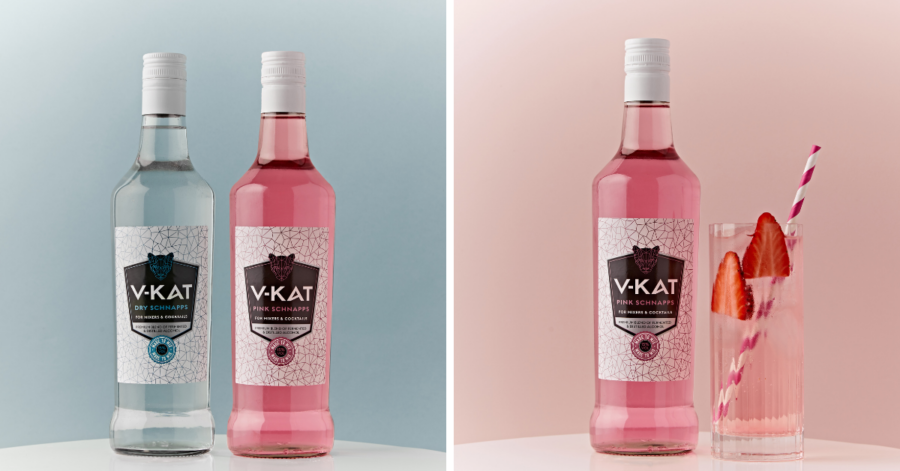 Our Marketing Director, Clare Gibson, confirms our excitement about the re-brand: "We are thrilled to be announcing the changes to our established  V-Kat Schnapps range. We anticipate the new design and bottle, as well as our new V-Kat Pink flavour will serve in attracting new customers to the category. Coined the 'blush bloom', the continued trend towards pink drinks has been fuelled by the creation of Instagram-friendly liquids and drinks, with many consumers honing their own mixology skills at-home. Adding a pink variant will enable our customers to further capitalise on consumer demand and ensure they, too, are staying on top of current trends.
"V-Kat is a dry schnapps which has been made to be mixed. It can be blended with mixers to create a long drink or used as a base for cocktails, making it a versatile option for at-home drinking occasions."
As an established ICB brand, V-Kat is listed in major retailers, including Tesco and Iceland, as well as being present within many wholesalers. To find out more about V-Kat Schnapps, please visit our brand page.