Our award-winning UK brand Hawksbill Rum already has an eco-friendly ethos andwe recently released two delicious fruit variants, Mango and Pineapple, that are created using leftover fruits that would have otherwise gone to waste.
These products are shipped in eco-friendly packaging, have a cork made from recycled waste material and a sugarcane fibre label printed with plant-based inks. The use of lightweight bottles (740g to 600g) saves over 100kg per pallet, which helps decrease CO2 emissions when transporting the rum to retailers and drinkers. 10% of all profits from Hawksbill Caribbean Spiced Rum sales also go directly towards turtle conservation projects in the Caribbean!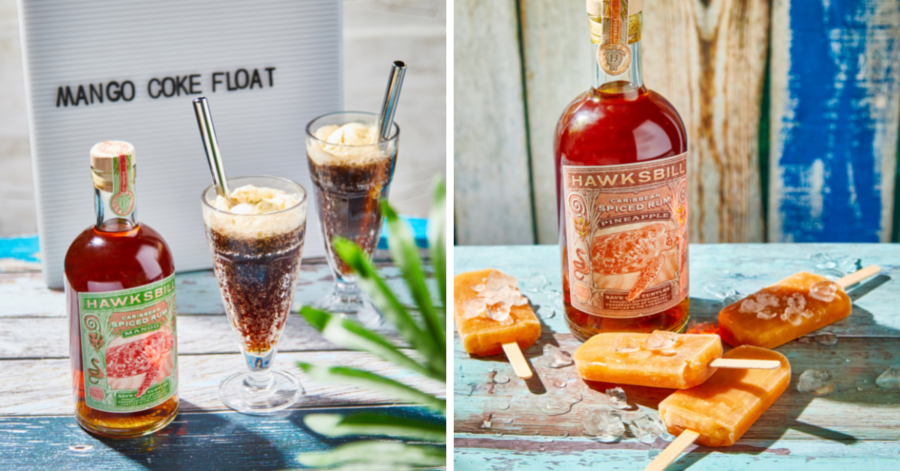 To celebrate this year's Zero Waste Week (5th – 9th September), our team has created two new delicious cocktails. Not only do these drinks help reduce food waste, but they're a mixture of both nostalgia and refreshment! Try these old-school classics with a grown-up twist: a splash of Hawksbill Caribbean Spiced Rum.
Mango Coke Float

– 50ml Hawksbill Mango Spiced Rum
– 200ml cola
– 1 scoop of vanilla ice cream
Add the Hawksbill Mango Spiced Rum and coke to a glass with ice and stir. Top the glass with a scoop of ice cream and enjoy through a metal or bamboo straw.
Hawksbill Rum Punch Ice Lollies
– 1 part Hawksbill Pineapple Rum
– 1 part pineapple juice
– 1 part orange or cranberry juice
– A squeeze of lime juice
– A drop of Disaronno or Orgeat
Mix everything together in a jug then pour into lolly moulds. Freeze for 1-2 hours then push lolly sticks into the mixture. Freeze until set.
Clare Gibson, ICB Marketing Director said: "We wanted to have a bit of fun this year and say a huge 'Cheers!' to everyone involved in the Zero Waste campaign right across the globe and to all the people who do their bit at home to reduce waste and protect the planet. Whichever recipe you choose, you celebrate your inner eco-warrior with a clear conscience!"